Lorelei Acuna
BFA 2 - Film
Indigarb
Fast fashion is the world's second largest polluter, emitting 10% of all carbon emissions and is dumped into lands and oceans all over the world. In Our compilation of video and photography come together to evoke empathetic response in our viewers. By seeing humans absorbed in plastic, we mirror the way our Earth and animal habitats are being covered in clothes and garbage every day. One solution we provide is upcycled fashion - turning old clothes/materials into ones that can be worn again, rather than thrown away, or buying new. We hope people begin to see beyond the glamour of fast fashion, and see our planet as our home, and our responsibility. Thank you to the WRI (World Resources Institute) for their constant support and insight for this project, as well as Yasmin Gibson and Maureen Furniss.
Lorelei Acuña (me) - director & stylist (curator)
Avery Jagre - director & fashion design (curator)
Josiah Green - photographer
Max Harper - filmmaker
Saira Mangat, Kelsey Gomez, Olivia Fogel - models
Damontae Hack - dancer/actor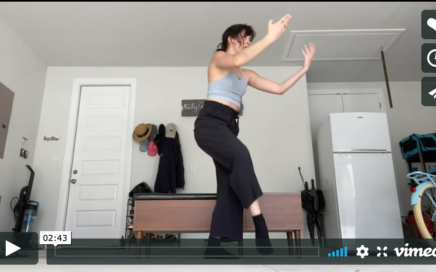 "Still Growing" is a short solo created in the restrictions of my home surrounded around a stool. It is a study on time and growth, striving to show that we are "still growing" in this time of quarantine.