Brian Griffith
MFA 1 - Music
Biological Internal Feedback
Biological Internal Feedback is a visual music piece exploring the opaque gelatin that is created when combining the moment of inspiration and the realization of the thought. The video for this piece was created using nature footage taken from around my neighborhood, and abstract video synth textures created in the CalArts Videographics Lab. Aesthetically, the two pieces of video are quite different, however, it is during these peaceful walks through Elysian Park when I start to think of the textures and shapes possible with video synthesis. The audio is also inspired by these walks: processing fields recordings that have been recording ad hoc, and composing elements that mimic the motion or sound of these recordings.
The result is the first in an ongoing series of personal exploration that aims to get at the distilled essence of creativity and expression. By exploring and combining elements that ordinarily might by two distinct styles, the commonalities will blossom.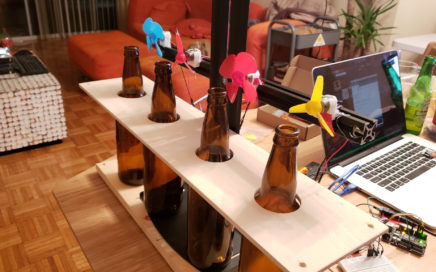 Tomorrow There Will Be Wind ( Automatic Windchimes ) A performance of playing an Arduino controlled set of wind chimes. Vibration motors are activated through a motor driver creating divisions and polyrhythms based on various "states." First iteration prototype with beer bottle activation.