2:00 PM
Exhibition Venues open 2:00–11:00 PM:
Cafe Lobby Clark's Field
L-Shape Gallery
Machine Lab Main Entrance
Roy O. Disney Concert Hall Lobby Sharon Disney Lund Dance Theater The Last Dodo in E400
Walt Disney Modular Theater & Lobby WaveCave
Wild Beast Courtyard X-Box
Portfolio Venue open 2:00–8:00 PM:
Main Gallery
Performances Begin in the Wild Beast
2:30 PM
Performances Begin in A300/Percussion Room
4:00 PM
Performances Begin in the Coffehouse Theater
4:15 PM
Artist Talk in B305B:
5:00 PM
Food Trucks 5:00–9:00 PM at the Main Entrance food for purchase, including vegan and gluten free options: Bollywood Bites
Performance Begins in Roy O. Disney Concert Hall Lobby
5:30 PM
Performances Begin in Roy O. Disney Concert Hall
6:00 PM
Exhibition opens in Galleries D300 & D301: going to be, yet to be:
The Graphic Design Program Show
9:00 PM
Exhibition begins in Bijou Theater: The MoSho
11:00 PM–late night
CalArts Expo Afterparty A300/Percussion Room Clark's Field
Roy O. Disney Concert Hall Wild Beast Courtyard
Slide 1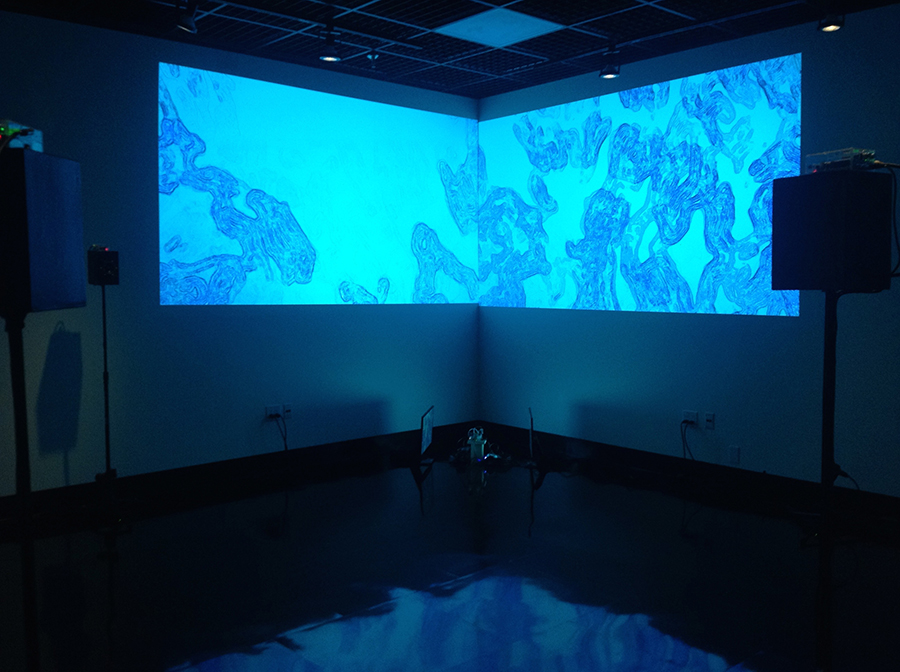 Doppelgänger
IMUU (Weilu Ge + Kelon Cen)
Weilu Ge, Interschool Art and Music, Composition and Experimental Sound
Practices, Art and Technology, Integrated Media; Kelon Cen, School of Film/
Video, Experimental Animation, Alumni
INSTALLATION 2:00–11:00 PM
Slide 1
3:00–3:20 PM Manu Beker: Project Showcase
3:30–4:00 PM DWP Soundbath #1
4:10–4:20 PM Nude
4:30–4:45 PM Duo in Two Movements
5:00–5:20 PM The Ensemble
5:45–6:15 PM CalArts Electroacoustic Ensemble
6:20–6:50 PM DWP Soundbath #2
7:00–7:30 PM Chordas Collective
7:45–8:05 PM Mass
8:20–8:35 PM Center Self
8:40–9:10 PM DWP Soundbath #3
9:15–9:30 PM Nespress O)))
Slide 1
2:30–3:00 PM Conversations 1
3:15–3:35 PM Nami
3:45–4:05 PM Outside My Window
4:15–4:30 PM No Signal
4:45–5:05 PM Eros
5:45–6:00 PM Baby Driver
6:15–6:30 PM Van Broh Presents: Bassthoven (feat. Brohzart)
6:50–7:10 PM Comma
7:40–8:20 PM CalArts Percussion Ensemble
9:00–9:10 PM ixeen + roger kim
9:20–9:40 PM Silo
9:55–10:15 PM NotChris Live
10:35–10:50 PM Sudaka Sound System
11:20–11:40 PM Dolly Dirtbag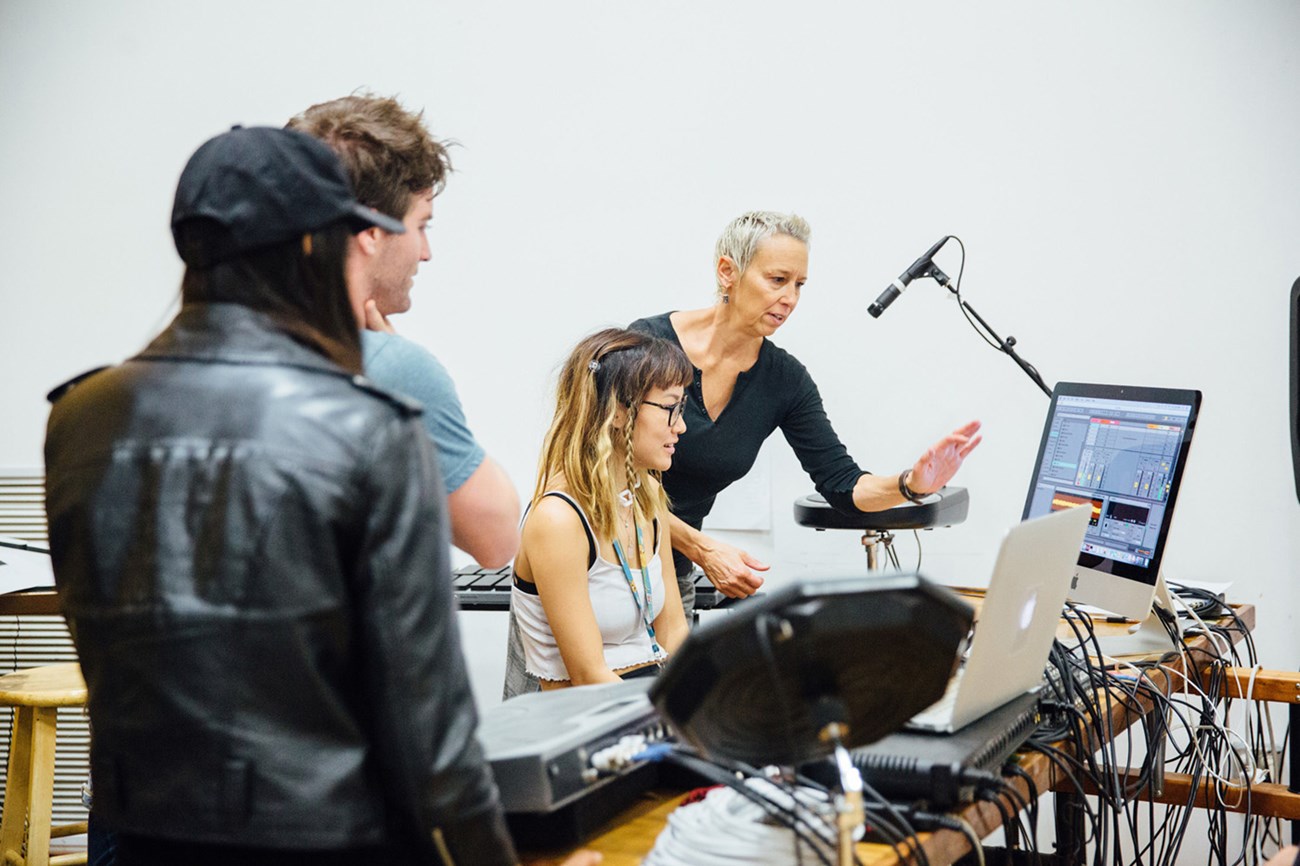 Slide 1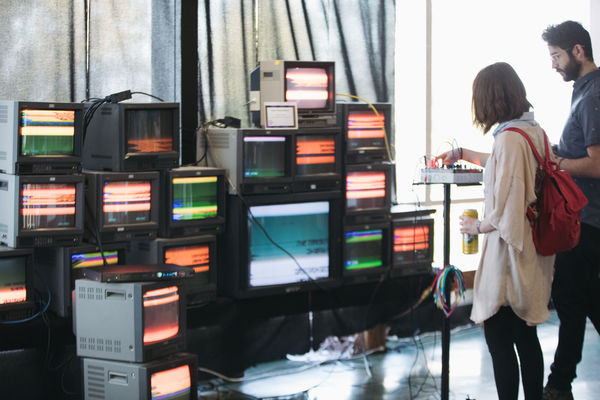 Cardiac Diagnosis
Mephisto Ray Liu, School of Art, Art and Technology
PERFORMANCES & INSTALLATIONS 2:00–11:00 PM
Looping with Friends
Carson Schafer, School of Music, Jazz Drums
with Rafael Luna, School of Music, Jazz Studies, Alumni; Avery Scanlon, School of Music, Jazz Guitar
Slide 1
PORTFOLIOS 2:00–8:00 PM
Ariel, Scenic Design and Experience Design
Benjamin Wilson, Lighting Design and Scenic Design
Bora Kyung Min Lee, Scenic Design
Bri Pattillo, Lighting Design
Caleb Wildman, Lighting Design
Char Simpson, Interactive Media for Performance & Creative Writing
Chasen Whitson, Scenic Design
Christine Ferriter, Lighting Design
Christopher Kim, Interactive Media for Performance
Damien Perard, Lighting Design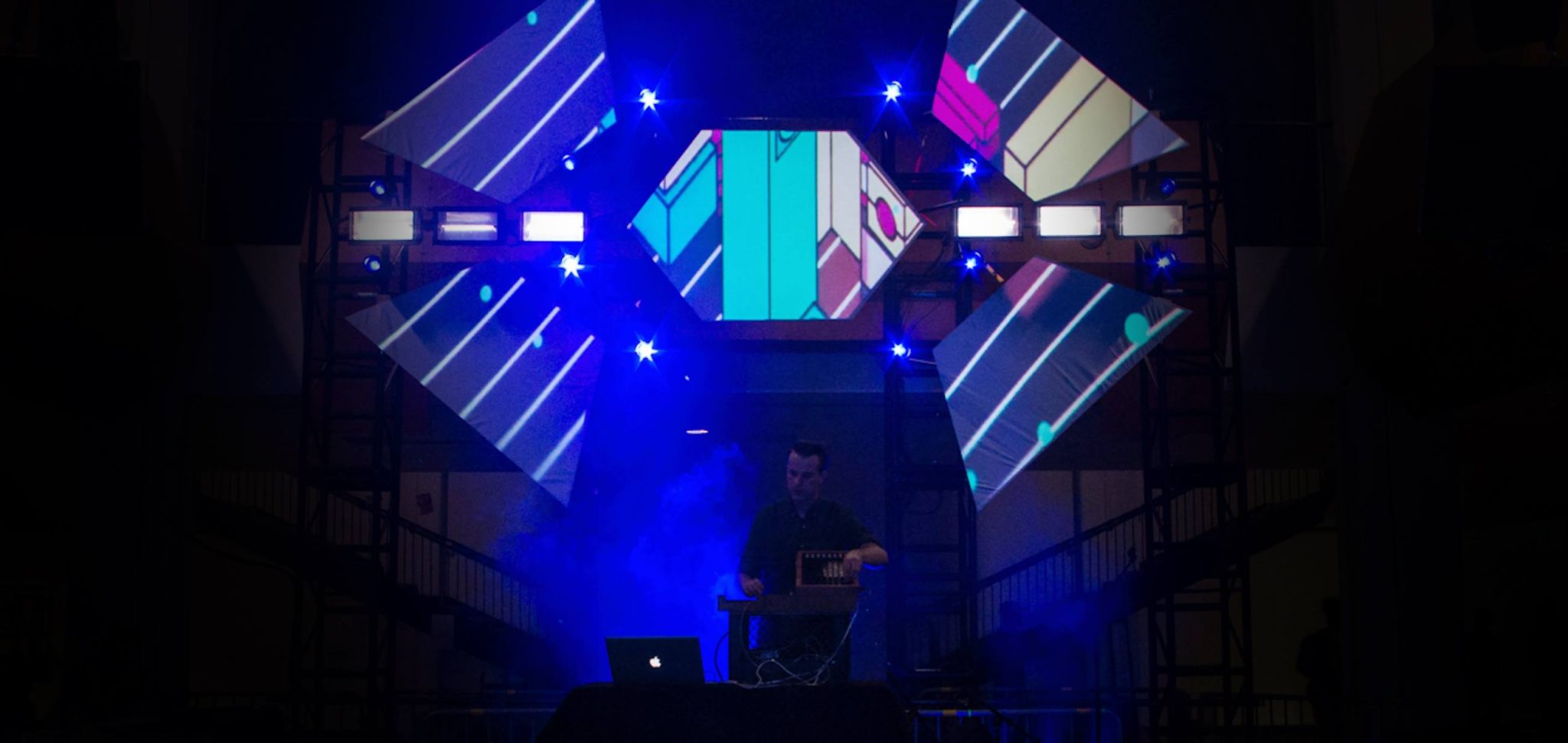 Slide 1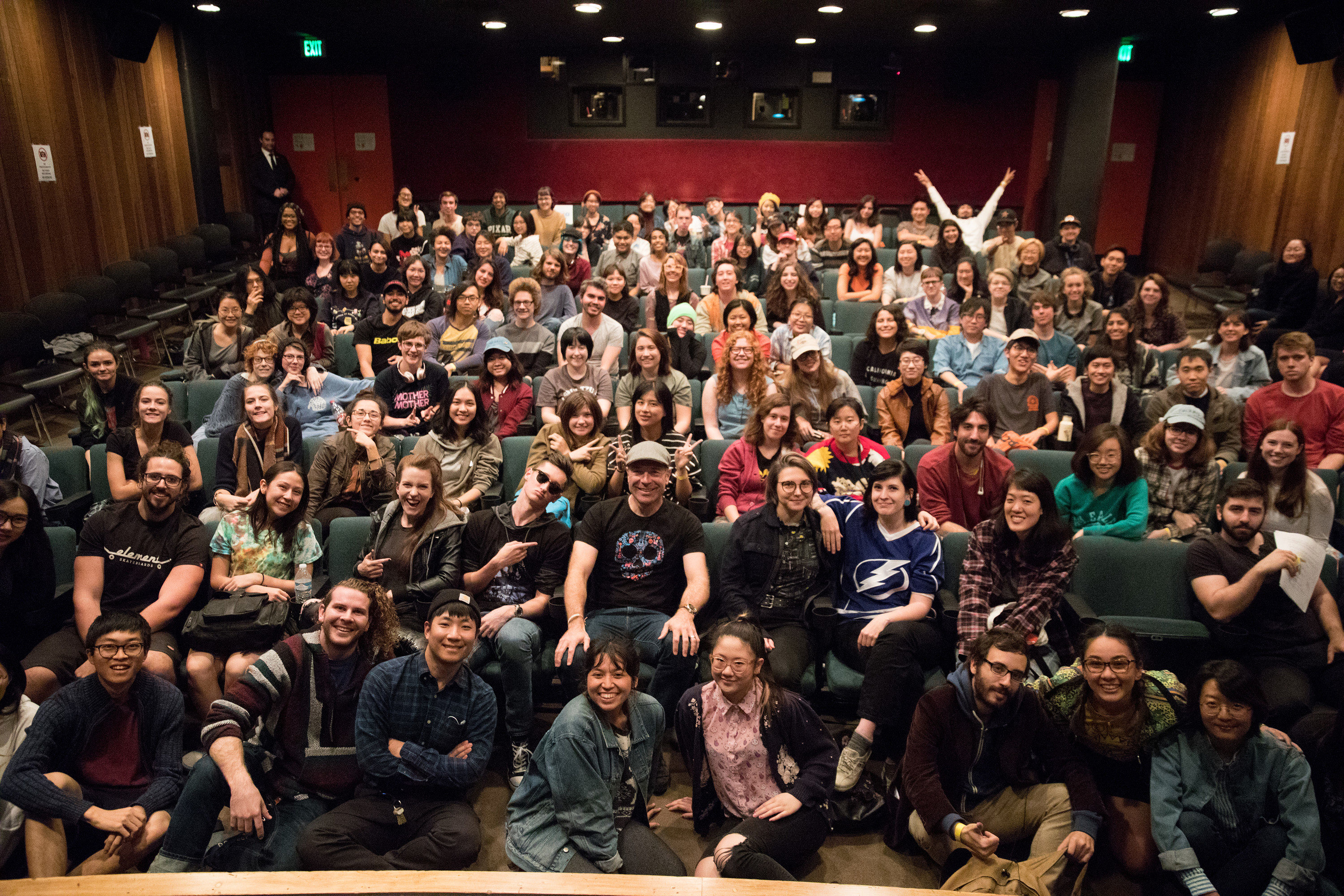 MOTION GRAPHICS SHOW 9:00–10:00 PM
The MoSho
Project Managers:
Gian Montes, Aisha Alkinaey, Seon-Ho Shin
Branding:
Gian Montes, Aisha Alkinaey, Sean-Ho Shin
Animators:
Gian Montes, David Yoo, Avery Jagre
Cinematography:
Gian Montes, David Yoo, Avery Jagre, Aisha Alkinaey, Seon-Ho Shin
Audio / Sound:
Avery Jagre
Project Director:
Tom Bland
Slide 1
ARTIST TALK 4:15–6:00 PM
The Singing Woodblock
Sarah Hennies (b. 1979, Louisville, KY) is a composer based in Ithaca, NY whose work is concerned with a variety of musical, sociopolitical, and psychological issues including queer & trans identity, love, intimacy, psychoacoustics, and percussion. She is primarily a composer of solo and chamber works, but is also active in improvisation, film, performance art, and dance. She presents her work internationally as both a composer and percussionist with notable performances at Le Guess Who (Utrecht), Festival Cable (Nantes), send + receive (Winnipeg), O' Art Space (Milan), The OBEY Convention (Halifax), Cafe Oto (London), ALICE (Copenhagen), and the Edition Festival (Stockholm). As a composer, she has received commissions across a wide array of performers and ensembles including Bearthoven (NYC), Bent Duo (NYC), Cristian Alvear (Santiago), Claire Chase (NYC), R. Andrew Lee (Denver), LIMINAR (Mexico City), The Living Earth Show (San Francisco), The Thin Edge New Music Collective (Toronto), Two-Way Street (Knoxville), and Yarn/Wire (NYC).
In late 2017 she premiered the groundbreaking work, Contralto at Issue Project Room (NYC), a film exploring transfeminine identity that uses aspects of "voice feminization" therapy as artistic material. The piece features a cast of transgender women accompanied by a dense and varied live score for string quartet and three percussionists. The work received widespread acclaim and has since been performed and screened all over the world at a variety of venues and festivals including Bent Frequency (Atlanta), La Sobilla (Verona), Monday Evening Concerts (Los Angeles), MOCA Tucson, Time-Based Art (Portland, OR), and the Toronto International Film Festival's Bell Lightbox Theater.
She is the recipient of a 2019 Foundation for Contemporary Arts Grants to Artists Award, a 2016 fellowship in music/sound from the New York Foundation for the Arts, and has received additional support from New Music USA, the New York State Council on the Arts, and the Community Arts Partnership of Tompkins County.
Hennies is currently a member of improvised music group Meridian with Greg Stuart and Tim Feeney, a duo with sound/performance artist Jason Zeh, and the Queer Percussion Research Group with Jerry Pergolesi, Bill Solomon, and Jennifer Torrence.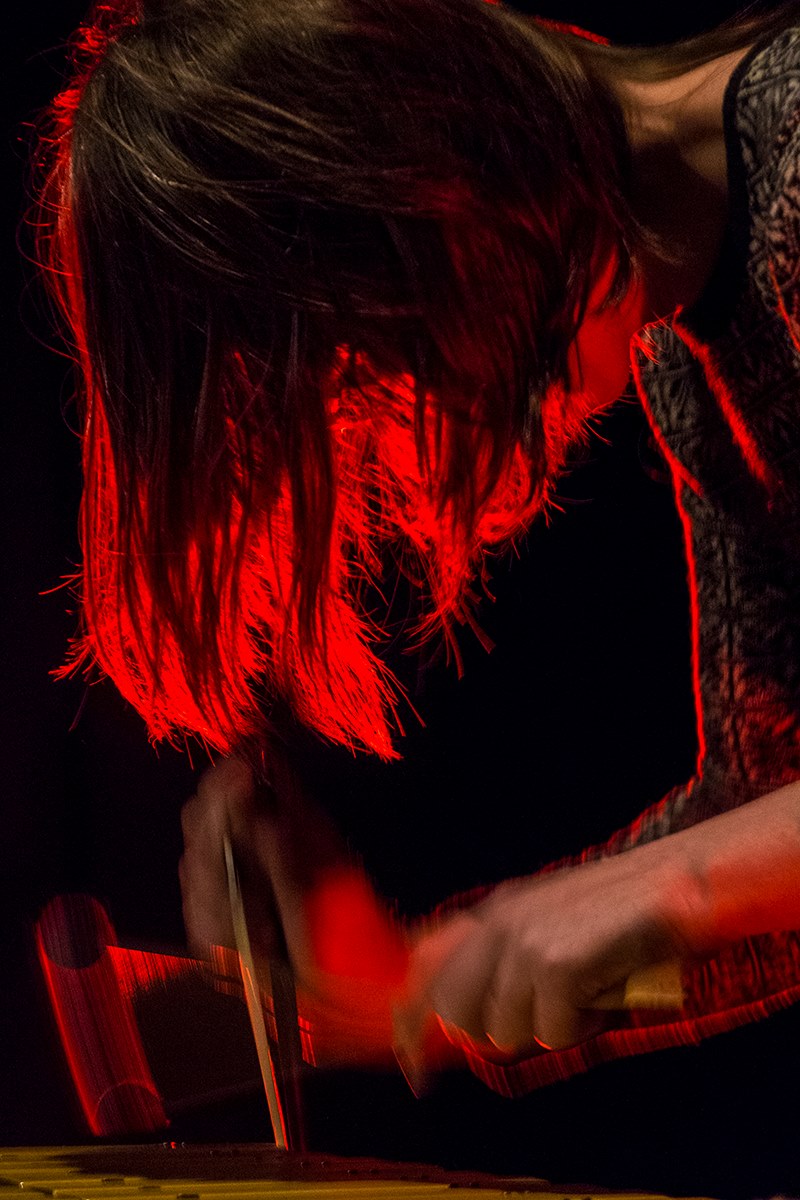 Slide 1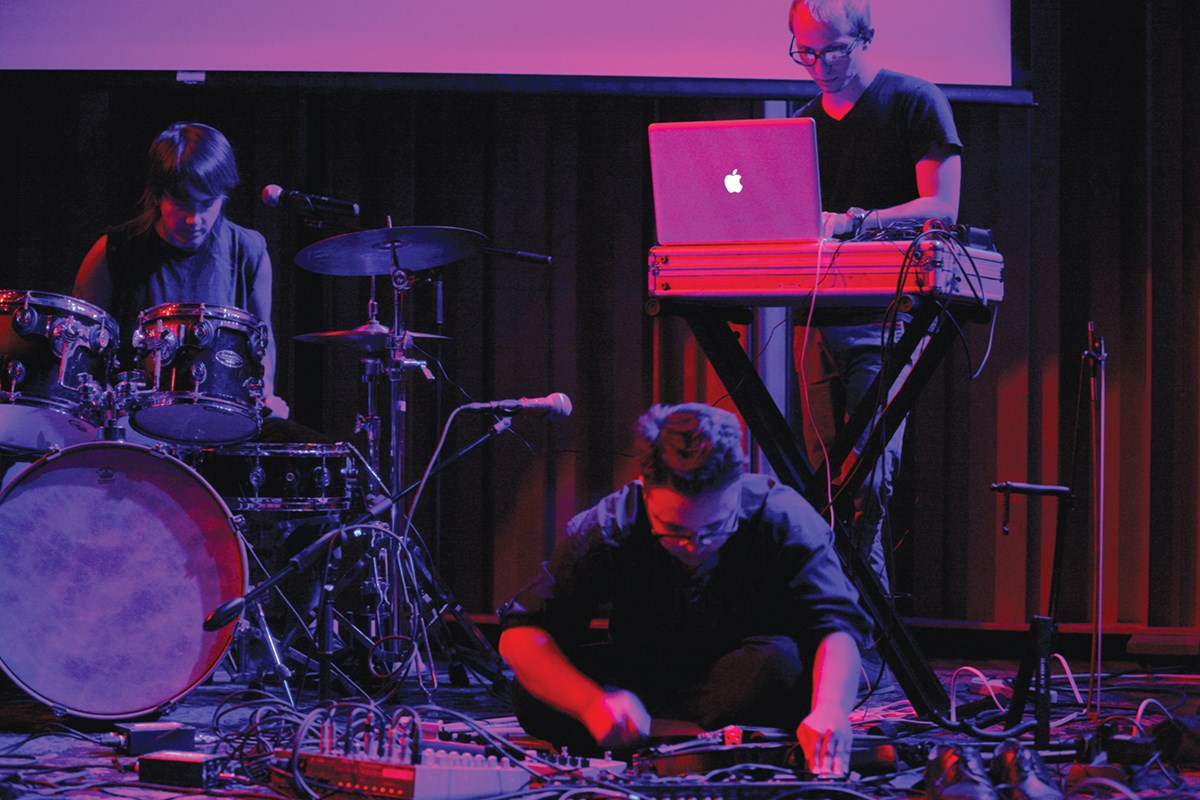 ROY O. DISNEY CONCERT HALL
5:30–5:35 PM Interacting
6:00–6:15 PM Facets
7:20–7:40 PM The Art of Practice
8:20–9:20 PM Sonic Boom: One Riff Is Enough
9:40–9:55 PM Tite Club
10:15–10:35 PM Skullmatter
10:50–11:20 PM aaautomaton by Bludwork
11:40 PM– Vinyl Info Session Infinity
Slide 1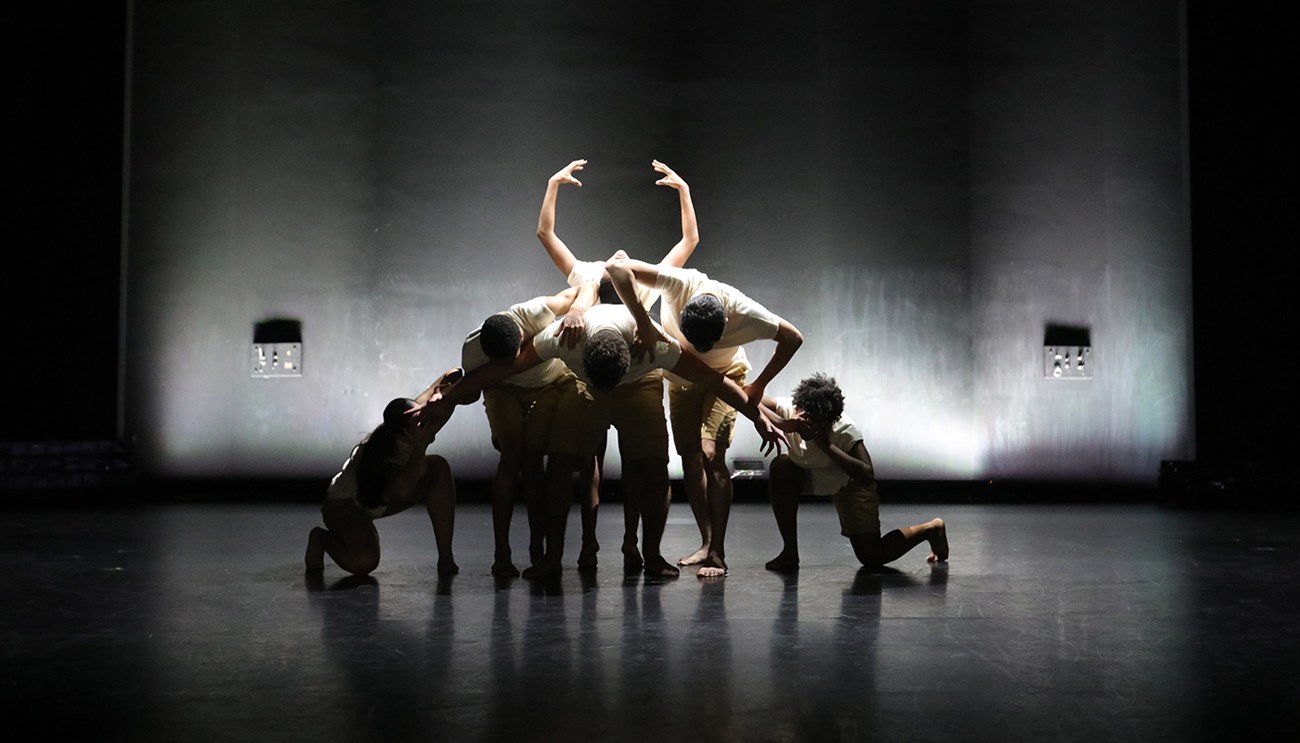 Sharon Disney Lund Dance Theater

INSTALLATIONS 2:00–11:00 PM
Bijoux (The Nebulae) Nan Avant, School of Music, Piano Performance with Stephen Jablonsky, Guest Artist
Black Hole of Individual Yue Fang, School of Art, Art and Technology
Cold Sweat Justin Farmer, School of Dance, Dancewith Ryan Amie; Ryan Moore, Lizzy Noriega, School of Dance, Dance